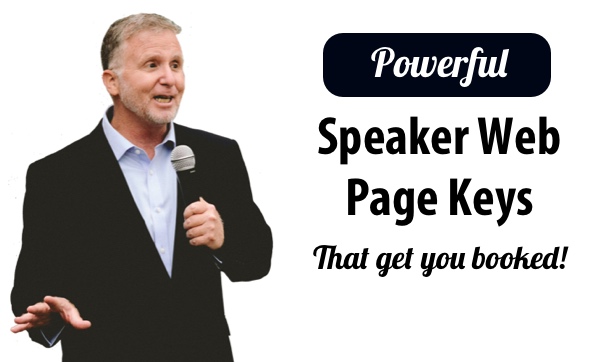 You know you want one: A glimmering beautiful Speaker Web Page.
That showcases everything you have to offer for groups lucky enough to book you. That reveals your expertise. Your authority. And how many folks you have helped.
There's just one slight problem:
You don't have the slightest idea what to put in it.
Well, you can relax … because we've solved that for you: With a quick tour of my own Speaker Web Page:
.
.
So now that you have your Speaking Web Page taken care of … what about your Speaker Talk One Sheet? The concise talk description almost all meeting planners and program chairs want to see? So glad you asked!
Check out our Speaker Talk One-Sheet Video Tour
You can also view the Speaker Page "in the flesh" here
You got this handled! Between your awesome one sheet, and amazing Speaker Page you're on your way to your own speaking windfall!
And … if you're looking for an engaging, entertaining speaker for your group, I'd love to hear from you! I'm getting out there in a much bigger way, looking to show entrepreneurs around the country how to create the seductive "OMG! Offers" that lead to a rush of clients and cash. Click here to get started, or drop me a line at Rob (at) ProfitSeduction . com.
Save
Save
Save
Save