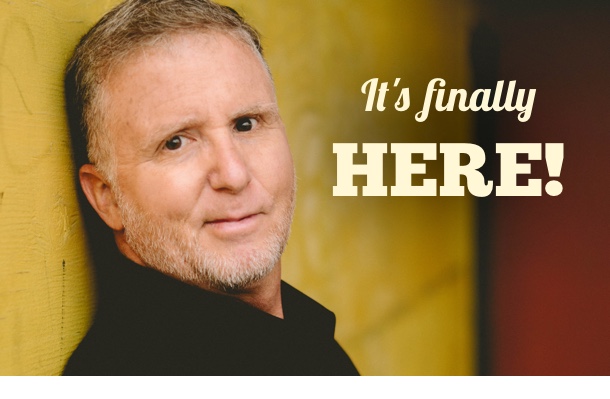 Well it's finally time.
Because you can only prepare for so long … and then it comes time to open the curtain. Take that wraps off. And allow all that preparation to make an impact, and change the game for a few fortunate entrepreneurs willing to seize the day.
For a few days now, I've been letting you on in something we've been laying the groundwork for over the last six months here at Profit Seduction. That had it's initial genesis back in August of last year.
And it's something many of you have been asking us
to create for much longer than that.
It's the hole in my business you've been telling me about. And gently prodding me to close …
But it's much bigger and goes well beyond that …
Because as I've worked with literally hundreds upon hundreds of entrepreneurs over the last few years, I've become aware of one thing. And it's the one thing I truly believe is keeping you from creating the success you yearn for.
It's the ONE THING I find you struggling with above all else, that's keeping you mired in a seemingly endless business slog. Because I see so many of you:
Creating opt-in pages
Crafting freebies
Building products
Getting out and speaking
Rolling out presentations and webinars
Booking comp sessions
Structuring launches
And even if you're making money … you're still mystified why you're not creating the profits you know your stuff deserves. So you can have a business which supports and your lifestyle at the highest level, instead of draining you dry.
I even find folks who have worked with program after program still missing this ONE crucial factor that can turn each of these avenues from crap shoot to cash cow.
It's like having a shiny new Porsche in the driveway … without an engine.
Yeah, the sleek styling, fancy upholstery, and blinged-out rims sure are cool. But it won't go anywhere without that horsepower.
So … just what is that one thing that can break things wide open?
It's the ability to "create the craving" for everything you offer.
To infuse that "OMG, is this real? Gotta have it!" excitement into all your promotion, products and offers, so the folks who need your stuff finally get the power and impact of what it can do for them.
So they invest in your stuff. And get to live the life they're yearning for, while making it possible for YOU to do the same.
So you finally understand "profitable" isn't just about paying the bills or squeaking by, month after month. But creating an amazing lifestyle for yourself, while you help create the results and outcomes your ideal prospects want more than anything.
So with every:
Email
Webinar
Conversation
Launch
Sales Page
Opt-in Page
Live Talk
Your ideal prospects catch the fever. So they want what you offer, demand what you offer … and buy what you offer.
It's the ongoing group you were yearning for me to create. Begging me to create. That provides the training, support, accountability and community to make all your offers irresistibly seductive. Irresistibly attractive. And powerfully profitable.
And … for a limited time … do it at a fraction of what private clients pay for my help, with an unprecedented Early Adopter Package that provides the most eye-opening bonuses I've ever offered.
Yes, you'll receive a fresh new Profit Breakthrough Training from me every month.
Yes, you'll have access to a full Q&A Cash Catapult Group Mentor Session every month.
Yes, you'll be able to submit your sales pages, emails, opt-in pages, webinar outlines (and other crucial promotion materials) to me every month for a powerful, seductive group laser makeover session.
Yes, you'll have access to me, to ask your specific questions (just like in my programs) in our Profit Seduction Superstars Private Facebook Group.
.
And yes … at least for those who jump in now … I anticipate a more intimate group. So if you've ever felt lost, anonymous or overwhelmed in those larger groups, this will be right up your alley.
Now I don't want to go into everything you get here:
But a couple of things I do want to let you in on. Because they're ultra cool and I've never offered them before.
The All-New Laser Launch Profits Program
Yeah, you guys have been bugging me to do a launch program. But I didn't simply want to do a knock-off of what's already out there.
So we went to work and uncovered an approach you're going to love! Instead of the usual, highly complicated launch formula, that can discourage and exhaust you (before you even begin), this program focuses exclusively on avenues to craft what I call a "Laser Launch".
Which means you'll discover how to gain momentum in your business by bringing money in with a launch … without the massive logistical headaches most launch programs make you go through.
And when you join me as a Founding Member of Profit Seduction Superstars, you'll receive exclusive ongoing access to the Laser Launch Profits Program in our Seduction Central Online Discovery Center.
Our Founding Member Rate … for Life!
I've had some pretty big arguments with my mastermind group about the initial rate for Profit Seduction Superstars. And that's not just a BS marketing line … some serious protests were thrown my way.
But I was adamant about making this initial offer
doable for as many of you as possible.
So when you join now, during our Founding Member Window of Opportunity, you will get a crazy low rate that will NEVER go up, no matter how much cool stuff we add to the Group (as long as you continue to renew your six-month membership).
Yeah I know … it's nuts.
But you know that's how I do things.
Because what I want for you more than anything, is to be able to create the craving for everything you roll out. Whenever you roll it out.
So with the first words out of your mouth
Your ideal prospects say, "Yes!" instead of "Maybe later … "
So with every webinar, every talk, every email
Your prospects see the gateway to their dream
The doorway to their destiny
And the fastest path to what they yearn for.
So you finally have the business you've been dreaming of
That delivers the life you've been dreaming of.
While showing your prospects how to have more of the things they want.
.
We've never offered anything like this before. And I honestly don't know when we might do something like this again.
Our Monthly Seduction Superstars Training Session, Monthly Group Q&A Mentor Session and Monthly Seductive Makeover Session.
Our Private Profit Seduction Superstars Facebook Community
A Treasure Trove of Founding Member Bonus Goodies
Exclusive Online Access to Our New Laser Launch Profits Program
Our "Is this for real?" Founding Member Rate that never goes up as long as you stay continuously enrolled and continue to renew your six-month membership.
.
My private clients know my private mentor program is the gold standard when it comes to individual attention to skyrocket your profits. But if you're not ready for that level of focus and attention, or you can't swing the rate … this group is what you've been waiting for.
I know it's what you've been asking for. Begging for. And now … its here!
So head on over and sign up now. This really is going to be amazing. And I'd love to welcome you with open arms into Profit Seduction Superstars!
Save
Save