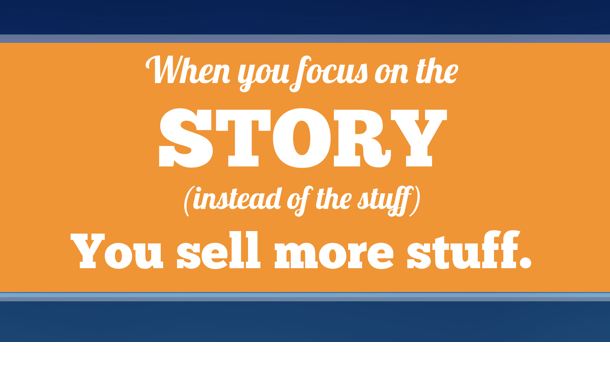 There's something interesting and surprising about successful people.
And it's the exact opposite of what you might expect:
When you talk to them in private, they don't talk as much as you thought they would about what success looks like on the outside:
The numbers (how much money / how many sales)
The stuff (all their products / services / things they offer)
The toys (houses, cars, cool clothes).
They talk about how success FEELS on the inside: The experiences their success allows them to have. And the stories those experiences allow them to tell.
And … there's one trait that's characteristic of many entrepreneurs who continue to struggle:
You won't find any of these experiences and stories in their marketing.
Which is crazy. Because when you focus on stories of the experiences you help your clients to enjoy (instead of descriptions of the the stuff you're selling), you'll sell more stuff.
Yep it even works with closets. That's right … closets.
That was 30 seconds, folks.
And if you're a mom, I bet you didn't get to the end of that without a lump in your throat. (And if you're a guy, I could probably say the same thing).
So how can you include stories of the amazing outcomes you help your clients experience in your marketing? So you're not just talking about the stuff you offer, but the impact it has? In a way that makes people race to be the next to work with you?
First, focus on the outcome
This isn't about what you do. This is about the payoff of what you do. And yes this is where it's OK to start pretty basic:
A lot more money
Losing weight and slimming down
Achieving financial security
Finding that great job or career
Nothing really special here. Many of you are already doing it. But here's where we start making it juicy.
Second, take those outcomes and identify what makes them sooo desirable
So what is it about those things that really get our clients excited?
More money  >>  freedom, living dreams, giving to people who mean the world to us, travel and adventure.
Losing weight / slimming down  >>  respect, energy, feeling sexy and confident.
Achieving financial security >>  freedom from worry, peace of mind, self-determined life.
Finding that great job or career >>  fulfillment, advancement, recognition.
We're almost there … the next step is where magic starts to happen!
Third, craft 1-2 sentence stories that make that it vivid
Take the details you uncovered in Step Two and craft 1-2 sentence laser stories that bring them to life.
More money >> freedom:
"Imagine … jumping on those front row seats to Hamilton your friend just scored. And not giving a second thought to how much they cost."
More money >> giving to people who mean the world to us:
"Catching the look in your Mom and Dad's eyes when they realize the plane tickets you've just handed them are for that dream vacation they always wanted to go on … but never had the time or the money for."
Losing weight >> confidence & sexiness:
"The door opens, and from the moment you walk into the room, eyes open and heads turn. And you've never felt better, sexier or more alive in your life."
Can you see it? Can you feel it coming alive? And are you starting to experience a powerful emotional pull? That is the magic spell of a great story, built around what your prospects want most.
But we're not done yet! The next step is where we really bring it home.
Finally … ask them to step INSIDE the story
Once you've created these short but powerful stories of how their life could look … make it personal.
By asking them to step into the story. And imagine what their own life would feel like if this was their reality: How would things be different? What pain and problems would no longer be on their radar screen?  What new horizons would be possible?
And what new joys would become an everyday part of their existence?
Because the truth is, you're not selling stuff. You're not even selling outcomes. You're selling the experience those outcomes make possible and the stories your clients get to tell about those experiences.
It's not just money — it's a son excitedly applying to the college he wants to attend (instead of the one he has to settle for).
It's not just a great job — it's a passport to living every single day as a powerful, fulfilling creative adventure, being appreciated and paid well for what you love more than anything in the world.
It's not just a "marketing strategy" — it's an avenue to have an impact on thousands upon thousands around the world, that creates financial freedom for you and your family while your doing it.
And … it's not just a closet. It's a little girl
taking her first steps to becoming a big girl.
Facts tell. Stories sell.
It's true. It's powerful.
And when you make a commitment to use these steps to create compelling stories in your own marketing, you not only make the possibilities you specialize in come alive. You allow your clients to see themselves smack dab in the center of that amazing vision.
And of course …. catapult your impact and your income.
Because it's easy to say no to a product or a program. It's hard to say no to a dream. Especially when you realize … it's your dream.
Save
Save
Save
Save
Save
Save
Save
Save
Save
Save
Save
Save
Save
Save