So that the fastest path to their Dream ran right through
the heart of your business … and they KNEW it?
Wouldn't your business be easier? More fulfilling? And WAY More profitable?
Wouldn't your conversions and sales go through the roof?
Wouldn't your profits grow faster and easier because your ideal clients sold themselves on you?
Wouldn't you get to "Yes!" with less stress because the people with the money to hire you could see you were the Gatekeeper to Their Dream?
Wouldn't the people who usually say "I'l think about it" FIND THE MONEY to work with you, because they KNEW saying no was not an option?
And wouldn't the opportunities that pass you by. suddenly flow to you. Because you'd found the way to make your market want you like crazy?
That's Profit Seduction.
A powerful approach that reverses the client chase. And revolutionizes the results you get from:
Your messaging
Your products
Your webinars
Your launches
Your strategy
Your copy
Imagine how much easier, fulfilling and profitable your business would be if:
Every word you speak and every action you take … whether in person or online, in text or video, could capture the attention that leads to sales!
Every discussion could turn a stranger to a client!
Instead of shoving a bunch of stuff in your prospects' faces, you channel the passionate yearning for success that is ALREADY inside them right through the heart of your business!
You could stop desperately chasing clients. And get in front of clients that start desperately chasing you.
THAT'S your Million Dollar Turnaround.
And the FIRST step to making it happen is knowing exactly WHERE and HOW to locate your Ideal VIP PROSPECTS. The ones searching for you right now! The ones who would pay you (Handsomely!) if they only knew where to find you!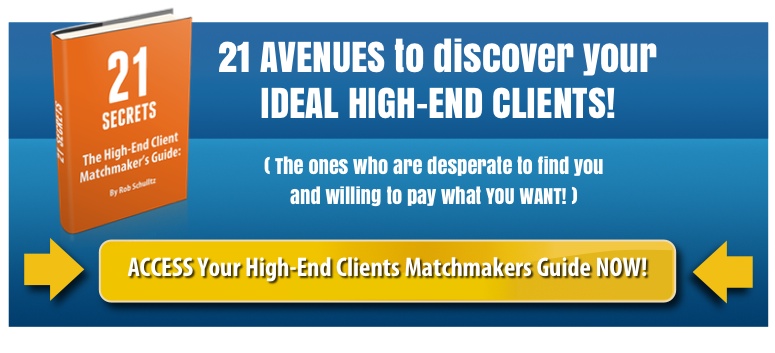 Because when you discover how to position your genius in front of the people who would reach for their credit cards in an instant if only they knew where to find you. … EVERYTHING turns around. And the best way to get started is with The High End Client Matchmaker's Guide: Explode Your Profits with 21 Avenues to Meet and Enroll Your Perfect VIP Prospects (the ones who WANT TO pay you!). This isn't some crappy checklist with a bunch of stuff you already knew. But a life changing guide that features:
21 powerful keys to eliminate the price objection before you begin, by targeting the prospects who actually WANT to pay you!
The fundamental crucial turnaround that virtually assures your success. Most of you are MISSING this. And its creating untold struggle in your business and your life!
The "Knowledge Nugget" Map of powerful resources that leads you to a treasure trove of your affluent VIP Prospects.
How to avoid the "Rescue Trap" that leads to the people who will never pay you. Instead of the people who WANT TO pay you.
How to identify the places your affluent VIP Prospects hang out. So when you get in front of them they recognize you are the fastest path to what they want most.
The best thing is … you only need a few of these 21 powerful, profitable avenues to completely alter the course of your business. So you can stop wondering why people don't see the value of your services. And start connecting with the ones who do! Ready to jump in? Then access your High-End Clients Matchmakers Guide Now!