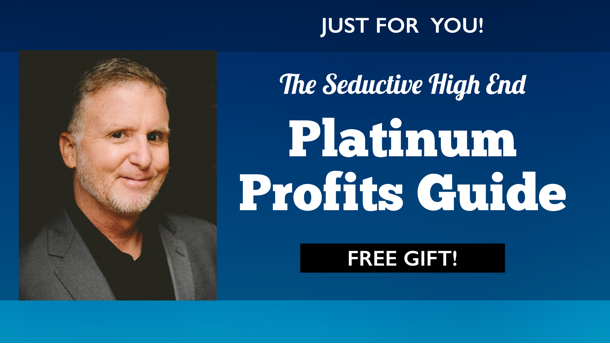 So … here's the deal (and tell me if this sounds familiar):
You need to make money (and need to do it fast!) Now this doesn't mean you're struggling or scraping to get by. But because of any number of circumstances, you find yourself wanting to make some sales quickly.
Now you're an entrepreneur, right? You should be able to make this happen, right? Well, it's not so easy.
But there is an answer. But it's not what you think it is!Because the key is not to sell a buncha low-cost items. But to come up with an amazing, high-end, more exclusive offer that's perfect for the right person! And will change their life in a big way.
But how do you create something like this?
Hmm … I thought you would never ask!
Because I want to gift you with a cool guide to do exactly that. It's called The Seductive High-End Platinum Profits Guide. And it outlines 9 keys that makes your high-end offer  irresistible. And maximizes the chances someone in your tribe will see that it's their ticket they've been seeking.
And buy!
Now I want you to understand, you don't need to be established, or a big shot or have been in business forever to do this. All you need is:
To be good at something (Check! You already are)
To know how to reach people (list, networking group, or specific colleagues or professionals) who would love the benefits of what you're good at in their life.
And the specifics you'll discover in this cool Platinum Profits Guide. So they see the value in your offer. And pay you for it!
Now if you're on a tight time frame, you probably won't be able to nail all 9 keys. But if you hit the right ones you'll make your offer infinitely more seductive.
And maybe even get through that cash crunch quickly!
P.S. –  These nine tips also work really well if you're not in a rush. So if a high-end program is somewhere in your future (and it probably is) this little guide will give you a jump start.
So right-click to download your Seductive High-End Platinum Profits Guide now!
Save
Save
Save
Save
Save
Save
Save