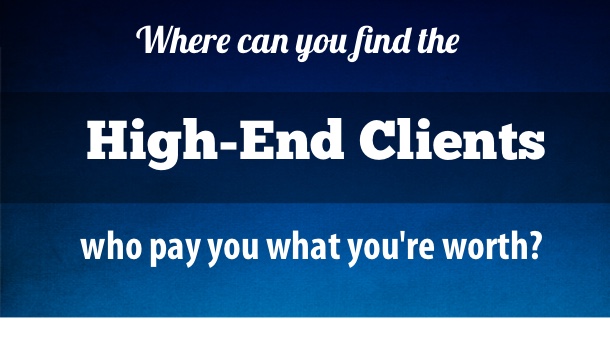 There's a gold mine hiding in plain sight, waiting for you to discover it. Unfortunately, it's probably one you've missed. Not because you wanted to, but because you just didn't know how to tap into it.
Well … all that's going to change. Right now.
Because there's a good chance the biggest objection you're hearing from your prospects is that "People LOVE you! They need you! The problem is … they say they can't afford you!"
That sucks. And … there's a simple way around it:
Because when you know how to find the prospects for whom money is not a problem … well, money stops being a problem.
Because they know the value of what you offer. And they're willing to pay you (and pay you well) to help solve the problems they can't handle on their own.
Don't know how to find them? Well, here are five powerful ideas to get you started!
Your good buddy, Google:
Google is a gold mine when you know how to use it. Here are just a few of the search phrases you can use to locate quite a few powerful (and free!) sources on info on your affluent market. With a little imagination, you can come up with your own:
Where the wealthy live
What the wealthy want
Marketing to the affluent
Marketing to the wealthy
Networking with the affluent
How to network with the wealthy
[ your wealthy target market ] + networking groups
Wealthy + [ your target market ] + networking groups
Nextdoor.com
Nextdoor.com is a free private social network for your neighborhood. While its not an overt marketing platform, it can be a great way to uncover opportunities hiding out in your own backyard. Because we spend so much time behind our computers, we can spend hours, days or even weeks trying to uncover possibilities on the other side of the country.
When there may be gold nuggets hiding right on the others side of town. Nextdoor is one way to connect you with those possibilities waiting right around the corner.
Your affluent prospects hang out in affluent places
Get in front of groups in communities where there are large concentrations of wealth, where wealthy people gather, and provide something they are looking for. These can be formal networking or professional groups.
Or just places where you can strike up a conversations with the affluent.
I knew a coach who enrolled a private client after a spinning class in a high-end athletic club.
If you live in a larger city, you're already there. If not, target a larger city that is nearby. And do whatever you can to regularly get in front of or around groups where:
The members have money to spend
They are urgently seeking the solutions you offer.
Wealthy people have problems. Wealthy people have drama. (Just like your current market). The difference is wealthy people have the means to pay for the solution to their problems.
Don't just target a client, target an industry
We all know about "target market" or "target client". But imagine what would happen if you targeted an entire industry?
Ask yourself: What professions and industries feature large concentrations of affluent folks with lots of spendable income, that are starving for the kinds of outcomes and results you deliver?
In short:
Focus on an industry that features people of wealth, with plenty of disposable income.
Or on professions where people have money.
That are filled with folks who are looking for what you offer.
Yes, this works if you're a woo-woo
Are you a healer / intuitive or some other kind of practitioner / mentor whose services might be considered alternative or cutting edge? Then consider targeting creative industries and professions where there is wealth. Plus the kind of progressive open mind which makes them an ideal prospect.
Industries like:
Entertainment
Fashion
Advertising
Design
Some sectors of the tech industry
I once knew someone who worked as an interior designer in New York City, before she became involved in metaphysics and healing work. And there were scores of her very affluent (and influential) design and professional colleagues who not only became interested in her work.
But were well-connected with other affluent professionals around the country who they referred to her.
Are you suddenly seeing how doable this is?
Are you seeing this is not just a pipe-dream?
Affluent folks have all the problems your current market does. You know, the folks who say, "I'd love to, but I don't have the money." Well, these folks have the money.
And when you know how to find them, and get in front of them, they will send some of it your way.
Excited? Believe me, this is just the start …
Because I've compiled 21 cool keys and resources to identify, discover and connect with your perfect high-end clients. The ones who are searching for you right now. The ones who would pay you right now … if they only knew you existed.
Including a cool twist on the old MeetUp Strategy that will knock your socks off!
And you don't have to be wealthy to benefit from it … because it's FREE!
Get instant access to your own copy right here. And you can start to discover your own high-end client gold mine.
Save
Save
Save
Save
Save
Save
Save