No matter what avenue or tactic you choose to build your business, at some point you hit that brick wall called sales.
Whether you're doing webinars, video, social media, speaking (or you name it), at some point it comes time to do that icky thing you just can't bring yourself to do: Close.
Isn't there a way to be able to have all the clients you want without having to "make them buy"?
I have a surprise answer for you:

There is!
And while you will always have to close, you can do it in a way that uses all the things you love to talk about (possibility, impact, what their new life will feel like), instead of all the things you can't stand (like pressure, begging, hype).
The good news is … it's not complicated.
In fact … turning your entire sales picture around from "Yuck!" to "Yeah!" involves one cool underlying idea. And four specific ways to carry it out.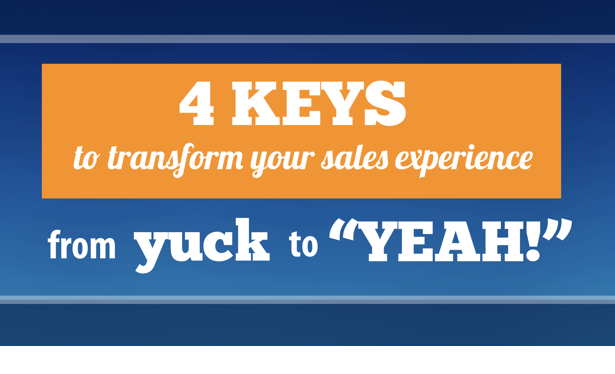 First, lets look at the underlying idea:
Desire FIRST
Why?
Because when people want what you offer there's no arm twisting. No begging. No pleading. And best of all … you can be yourself. And be excited about what you're offering them.
Because you're not trying to "get them" to buy.
But opening a door to the future they've wanted for so long.
And you create desire by focusing on two things:
The problem you solve for them. And the outcome you deliver for them.
Yep it's that simple.
Not your process. Not all of your steps. Not what you believe. Not your theories.
Because when you focus on what will make a difference for them, they reward you.
Build the desire for the outcome your offer delivers FIRST.
THEN position your offer as the fastest path to that outcome.
And the way you make this happen is the 4 P's of a Seductive Close:
#1:  The Passion:
We all know how passionate we are about what we want to talk about. But the first key to successful enrollment is to focus on what THEY are passionate about:
The solution to the problem they have that won't go away, no matter how hard they've tried. The solution that helps them take giant leap closer to the life they want. The solution that you help them experience.
The first key to creating this Seductive Close is to stay focused on what they want. Not what you want them to have. Or why you think that's important. The more you are able to keep the conversation focused on how you can help them get what they want …
… the more likely they are to pay you to help them get it.
#2: The Possibility (not the Product):
This is the critical step most entrepreneurs miss. If you get this wrong, you can get the other 3 P's right and it won't matter.
Yes, you are selling a product, program, or service, that you've worked hard to create. That you're justifiably proud of. But that's not what they're buying.
They are buying a possibility: The ultimate outcome and amazing story line for their life that is more enjoyable, fulfilling and powerful than what they are living now.
So it's crucial to not just talk about your product or offer. But directly relate your offer to the specific outcomes they want. And the specific ways your offer will help them have those results faster and with less effort than they could on their own.
#3: The Premonition:
Now here's something that's crucial that you've probably never heard before. But it's one of the most powerful avenues to move a prospect to WANT to work with you: Ask them to step into how it would actually feel to have what they want.
You can do this with imagine statements:
Imagine: You make all the money you want. And you wake up every morning excited about how you're going to spend your time. Instead of worried about how you're going to make enough money to survive …
Imagine:  Loneliness is no longer the plague of your life. Because every morning, you wake up next to the person you are meant to spend the rest of your life with.
Imagine … the thing you wanted so much, for so long … was yours. Forever.
You get the idea.
Paint a big beautiful picture of what their life could be like with your help. And then invite them to step into it. And FEEL it.
The more you can move them to experience the transformation you deliver IN THE PRESENT, the more likely you are to enroll your client, or make the sale.
#4: The Promise
When you can combine:
Their passion and desire for what they want.
How your product, program or service opens the door to this powerful possibility and helps them have it faster.
And the experience of what their life would be like if they had want they wanted …
… it leads to a sense of inevitability and expectation of receiving what they want if they work with you. In other words: With your support, success isn't a matter of if, but when. With a vastly accelerated timetable.
This is NOT about making guarantees or promises you can't keep. It's about framing your offer so they see the road to the thing they've been missing just showed up.
And when their success feels this certain, they are suddenly confronted by a powerful fact:
NOT working with you will cost them far more than what you charge:
Through lost money.
Through lost opportunity.
Through lost peace of mind.
And most important: Loss of time. Time they can NEVER get back.
Faced with the option of continuing to suffer with their challenges (possibly for years) or starting on the road to what they want immediately by working with you, the decision becomes easy.
They find the the money.
They tell their spouse what they are doing and why its the best path forward for both of them (instead of begging or asking for permission).
They will do what it takes to make it work.
Because when you have these four P's working for you:
Passion
Possibility
Premonition
Promise
Backed up by focusing the conversation on their desire for what they want (not your desire to sell them something) your sales go up, and your life gets easier.
And more and more clients experience the better life your seductive sizzle delivers to them.
When viewed in that light, sales no longer is something you have to do, but that you get to do. Because it's another opportunity to not only communicate the difference you make, but deliver that difference to more and more people.
Now … wouldn't it be awesome if you had a
cool way to make this memorable … and profitable?
That would sit on your desk to remind you to focus on DESIRE FIRST. And then to use these four Pitch to Profit Pathways to to ignite the yearning for what you offer. So you close more? Make more? And have a larger impact with a wider circle of folks?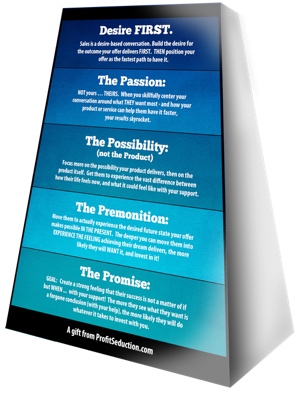 You can! I've created this one-of-kind absolutely free Stand-Up Sign for your office. That you can build in minutes to put by your phone, by your desk, wherever you need that reminder you're not trying to "get" your clients to buy.
But creating the desire so they want to buy … because they KNOW the fastest path to their dream runs through you.  The simple video below shows you how you can create your own sign, absolutely free in minutes! With nothing more than scissors, a printer and tape or a glue stick.
Watch the video! And download your Seductive Close Pitch-to-Profit Stand-up Sign, so you can start enrolling more clients, making more money and creating the business you dream of … now!
Right-click to Download your Seductive Close Pitch-to-Profit Stand-up Sign now!
CLICK on the Play Button to Watch
the Video and build your sign!
.
Save
Save
Save
Save
Save
Save
Save
Save
Save
Save
Save
Save
Save
Save
Save
Save
Save
Save
Save
Save
Save