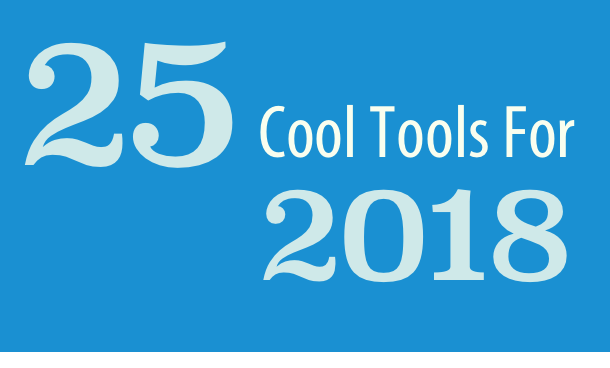 I know: You thought becoming a business owner was going to make your life a lot simpler.
Until you discovered the crazy number of tools you need to create the success you want.
The good news is: You only need a few (and a great coach, wink) to get you that first big boost that gets you out of the gate.
But once you're going: What are the tools that can create a difference for your bottom line? Here is a list of the ones I will be using to grow even more in 2018. Including my Resource of the Year which will probably surprise you:
Resource of the Year: Google
I know: Something as mundane and accessible as a search engine can't possibly be rated above all those cool whiz-bang automated video broadcast thingy's. Except when you realize what Google puts at your finger tips.
I am always amazed at how few people know how to really put it to work. And more amazed how many are unaware of how much more successful and profitable they would be if they did.
Confession:  Half the time I am labeled a "genius" because I found the right resource, tool, tutorial, speaking gig venue, live event, organization or other "perfect" info tidbit, was simply by knowing how to use Google (or it's sister video search engine, YouTube).
Wanna boost your bottom line in a big way without investing a ton of money, (or tearing your hair out with techie stuff?) Learn to get your questions answered on Google.
Video / Multimedia:
Facebook Live
What YouTube and Google missed with Google Hangouts, Facebook has nailed with Facebook Live: A simple, reliable tool you can use to broadcast live video worldwide right from your familiar Facebook profile, page or group.
With a touch of a few buttons … you're live! And yes, people have made money with this, in ingenious entertaining ways.
While you want to be sure you comply with Facebook's Terms of Service (especially with self-promotion) there's no easier way to create the content that builds the connection and trust that leads to sales.
Way cool / way affordable tool for Mac desktop and laptop owners! It's like a production studio for adding professional touches like captions & titles, picture in picture, broadcasting your desktop and more. Blows the lid of things you can do on your Facebook Lives for a low one-time fee.
Screenflow is an awesome program that captures anything on your screen and turns it into a video. What most folks don't know is it's a great video editing program as well. Great for tutorials, capturing slide presentations, editing out glitches and adding cool professional touches, like transitions, titles and text.
Camera: iPod Touch or iPhone
Sure, you can spend more money, but you can't beat today's phone cameras for the combo of quality and convenience.  Especially when what captures attention nowadays aren't necessarily the slick produced videos, but the ones that feel like you're looking over someone's shoulder as their life plays out.
While most desktops have a built-in webcam, if you're looking for a quality external USB webcam, this is your pic. Clear built in stereo mic, great picture quality … and you can even mount it on a tripod.
Monoshot Tripod / Selfie Stick
Sure, you can get cheaper selfie sticks. But I purchased this one during it's Kickstarter promotion because it's extendable and also comes with an attachable tripod base and a bluetooth remote for starting your camera.
Selfie videos are a great way to switch out the same boring office background in your videos. And I've always been amazed at the increased engagement my "location" shoots receive. Sometimes, you just gotta splurge …
Background Music:  Audio Jungle
When I needed some nice background music for a launch video (that didn't sound like crappy background music), I turned to Audio Jungle. If there's an issue with this site it's that there are so many selections to choose from. Quick Access Tip:  Music is organized by categories from the Music Menu at the top of the page.
Presentation & Webinar
Keynote (Mac):
Comes free with every Mac desktop. Apple almost messed this up when they redesigned it a few years ago. But recovered nicely after howls of protest from their user base.  Intuitive and elegant, it's a joy to design awesome looking presentations.
Disclaimer — Zoom is not in my current toolbox (at least not yet). I was lucky enough to be grandfathered in on a great rate for GoToWebinar years ago. But if you're looking for a tool to broadcast live video, webinars and presentations, there simply isn't a better combination of features and affordability.
And I also know quite a few high end folks with very successful businesses that make it their go to live presentation tool.
I know you're asking:  What about Webinar Jam? I haven't used it enough to make a recommendation on it. I do know there were a multitude of tech issues with the older version because of it's reliance on Google Hangouts as a broadcast platform. But this year they redesigned it from the ground up.
Website / Web Design / Opt-in Pages
Simple drag and drop website creator, with scores of templates for ultra fast site creation. Or use their drag and drop interface to create your own. I've seen folks who shy away from anything technical, use these tools to create really nice looking sites quickly. If you're not at a place where you can hire a designer, it's a great way to get started.
Divi: WordPress Web Design Theme
In the coming year I will be migrating my own website to the Divi platform. It's a very cool theme for WordPress Sites that allows you to create just about anything you can imagine. A bit more advanced than Weebly or Wix, if you're more of a geek, this is for you. Of course, once your business gets cooking, you'll want to find a designer or tech to do this for you.  Many of my colleagues use this for their websites and love it.
I've used LeadPages for opt-in pages and OptimizePress for opt-in pages and sales pages (although I did have a client do a makeover of their entire site in Optimize Press).  Both have templates for all kinds of web pages.
It's a heart-stopping experience I've had more than once: To head over to your website or sales page and see some hacker-inspired craziness instead. I've had Sucuri backing me up for years, so if any malware does get through, it's usually cleaned up in less than half a day.  They also have a higher level of security which acts more like a firewall, limiting what can get through.
With the number of online threats that are out there, nothing beats a back-up of your site. So I use Backup Buddy, a WordPress plug-in from iThemes, to back up my primary WordPress sites. If you get on iThemes mailing list,  you can take advantage of their numerous sales throughout the year to get a deal.
Computer BackUp:
For my online backup I currently use CrashPlan. For my offline Backup, I have an external drive where I back up my entire computer, using my Mac's built-in Time Machine back-up  capability. Storage has become so cheap there is no reason not to do this.
Graphics
Most folks think of Canva as a great site to create your own quote graphics simply and easily, But it also can help you create Facebook graphics, infographics, post cards (when you're on the site, mouse over the Features Menu for the full list). You can do more with a paid plan, but can get started for free. A great place to make great graphics without being an artist or a geek.
Budget Headshots (on Groupon)
Yes … in the best of all possible worlds you would have the time and budget to afford an amazing photographer. (They are worth it!) But sometimes you just can't swing it.
Years ago I was out of pocket a ton of money for a big sponsorship and suddenly realized I needed some head shots.  And I found an affordable option on Groupon.  (I remember a colleague raving about a last-minute head shot from a Groupon vendor, and figured I'd give it a try). The photos were limited (multiple versions of two poses). But it was perfect for what I needed.
If you're in a pinch for time or money … it's a stop gap for when you can afford a full shoot.
What if really talented artists sold you spectacularly designed templates for all the thing you need at a crazy low price? That's exactly what Creative Market delivers. Templates for flyers, presentations, logos, business cards … you name it!
Pixelmator / Pixelmator Pro (if you're really into it)
Both Pixelmator and Pixelmator Pro are higher end (but affordable) graphics tools that give you a much higher level of control over your graphics. If you're not a techie, this is off limits. But if you're not afraid of computers and like dabbling with some of your own design, both of these are guilty pleasures. (I currently use Pixelmator for some of my graphics).
Planning
Coffee + Pen + Paper
You think I'm joking right? Well, some of my best ideas have come from heading to my favorite Starbucks, grabbing a tall dark drip, breaking out the old pen and paper and going to town. If you're kinethetic like me, nothing beats the feel and freedom of good old pen on paper. Text, sketches, arrow, highlight markers – sometimes if you're trying to find the right combo for a launch or a big plan, this is your ticket.
Mind mapping is another great way to easily create complex, detailed plans (and actually be able to understand them later). While there are paid tools, I use Freemind (a free tool) that has helped me plan launches, sales pages, annual plans and more. You'll surprise yourself how quickly you'll be able to get complex ideas out of your head and easily organize them so they not only make sense … but work!
Next on my List:
This amazing, zooming, rotating swooshing, interactive animated presentation tool, not only creates unique, attention grabbing presentations. But when loaded on an iPad could create some amazingly engaging (and profitable) touch screen demos for trade events, booths or sponsorships.
I've always been intrigued about what a well designed quiz (combined with a consistent traffic source) could do to boost my database. Some of the case histories for this interesting quiz tool are extraordinary.
A Video Drone
Yeah, I know this one's pretty crazy … but there's something irresistible about a drone hovering a few feet in front of you shooting your video as you walk. Kinda like a virtual camera person that doesn't need breaks (or ask for sick days).
OK, so what did I miss?
(You can tell me … we're friends!)
C'mon, I know I missed something. Maybe a bunch of stuff.
I promise I won't be offended if you offer your own can't miss tools for 2018, or something that made an extraordinary difference for you in the comments below: